Bush Fan #42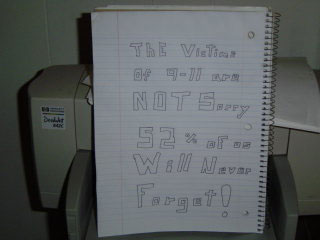 Ok..you tell me...when you use your printer not to print but to prop up a hand-written note and then take a picture of that with your digital camera... is that clever irony? A+.

...no, it's just another example of absolute stupidity, like voting for Bush or, say, speaking for the thousands of 9/11 dead and claiming they're happy Bush is in office. That's not funny-retarded like Corky, that's offensive-retarded like George W. Bush. I guess here I should argue that NYC is about as anti-Bush as you can get, that the 9/11 widows have to fight the Bush administration tooth and nail to get them to allow any 9/11 investigation or release any of their findings*, or that Bush let 9/11 happen in the first place. What's the use. Fuck it. F.
*Why did both Bush and Cheney ask Tom Daschle to restrict investigation into the attacks? Why did they both refuse to testify to the 9-11 Omission under oath?